How Do You Treat A Diabetic Foot Wound In Sterling Heights, MI?
Wound Prevention
You need to take care of your feet because they carry you through your life. If you have a diabetic ulcer, it's important to know how to treat it and what your podiatrist can do to help. Diabetes affects most major body systems including your nervous, immune and circulatory systems. Diabetes can also dramatically affect your feet. Your podiatrists at Advanced Foot, Ankle, & Wound Care in Sterling Heights, MI, are ready to help with wound care.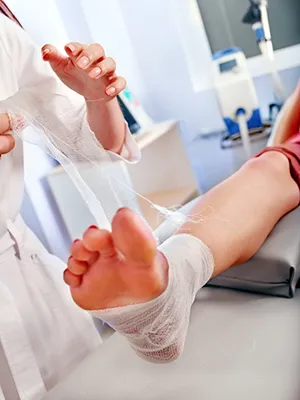 There are ways to prevent diabetic ulcers and other foot wounds. Remember to:
Wash your feet with warm water and gentle soap and apply moisturizer daily
Keep your toenails trimmed and clean to prevent ingrown toenails, infections, and nail fungus
Check your feet daily, and use a hand mirror to examine the soles of your feet
Wear moisture-wicking socks and comfortable shoes and never walk barefoot
Wound Treatment & Protection
Even with careful prevention, about 15% of people with diabetes will develop diabetic ulcers. Because diabetes compromises your nervous system, you may develop an ulcer and not feel it. It's important to do a visual examination of your feet and look for any swelling or redness. You may also notice a bad odor or drainage coming from your feet.
If you do develop an ulcer or wound, you need to protect it. The goal is to help it heal as quickly as possible and not become infected. You need to:
Gently remove dead skin or tissue
Apply topical medications and dressings to protect the wound
Take the pressure off of your feet by wearing custom footwear, orthotics or wearing a brace. Using crutches or a wheelchair can also be helpful.
If your diabetic ulcer or wound does become infected it's time to see your podiatrists at Advanced Foot, Ankle & Wound Care. They may prescribe antibiotics to eliminate infection and provide a variety of soothing treatments including prescription topical medications and bandaging.
If you have a severe ulcer that doesn't respond to non-invasive treatment, surgery may be indicated. Possible surgical procedures include removing or shaving bone to reduce pressure and correcting bone deformities in your feet.
Are you looking for a foot wound care provider in the Sterling Heights, MI area? Call Advanced Foot, Ankle & Wound Care at (586) 731-7873 for more information today!